Setting the scene for the Thirteenth LWF Assembly
The LWF welcomes delegates to the historic Polish city of Kraków, venue of the LWF Thirteenth Assembly, which is meeting under the theme of One Body, One Spirit, One Hope.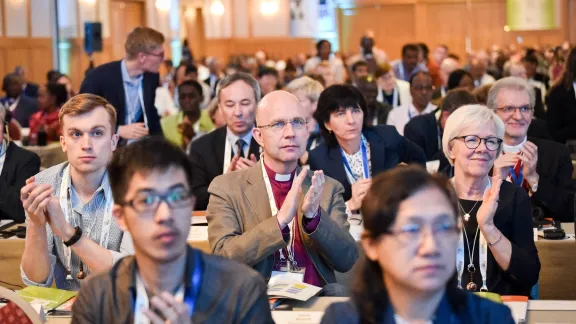 In total, some 355 official delegates will attend. Also present will be representatives of associate members, ecumenical guests, official presenters, advisors, ex officio participants, volunteers and staff.
This week-long occasion, preceded by the pre-Assemblies, will not only celebrate the communion and the unique contexts of member churches but carry out the official functions of the Assembly.
Assembly Planning Committee
Our great thanks to the following members of the Assembly Planning Committee for establishing the concept of and making preparations for the Thirteenth Assembly, in conjunction with other committees, reference groups and staff members. 
Members
Ms Colleen Elizabeth CUNNINGHAM, Moravian Church in South Africa (Africa)
Mr Leon CHAU, Chinese Rhenish Church Hong Kong (Asia)
Rev. Gustavo GÓMEZ, United Evangelical Lutheran Church (Latin America & the Caribbean)
Rev. Katherine ALTENBURG, Evangelical Lutheran Church in Canada (North America)
Presiding Bishop Dr Tamás FABINY, Evangelical Lutheran Church in Hungary (Central Eastern Europe)
Ms Kadre ARIKAINEN, Estonian Evangelical Lutheran Church (Central Eastern Europe)
Ms Amanda CARLSHAMRE, Church of Sweden (Nordic countries)
Rev. Klaus RIETH, Evangelical Lutheran Church in Wuerttemberg, Germany (Central Western Europe) 
Consultants
Bishop Jerzy SAMIEC, Evangelical Church of the Augsburg Confession in Poland (host church)
Ms Ewa SLIWKA, Evangelical Church of the Augsburg Confession in Poland (host church)
Rev. Dr Emma NANGOLO, Evangelical Lutheran Church in Namibia (Chair of the Local Assembly Planning Committee, LWF Twelfth Assembly in Namibia, 2017)