Information for those with voice and vote at the Assembly 
We expect at least 358 delegates to attend the Thirteenth Assembly. We look forward to your arrival in Kraków with excitement and anticipation.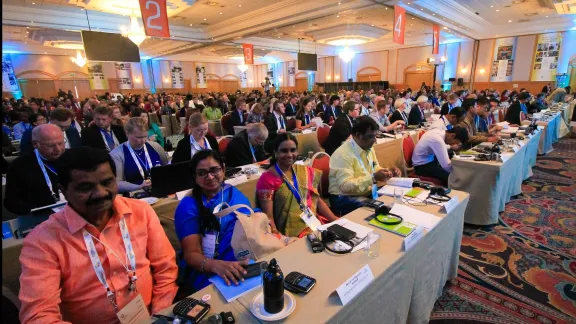 Each LWF member church has the right to have at least one representative at the Assembly. In determining the number of delegates of each member church, the Council considers the numerical size of each church and its distribution by continent and country. Council guidelines provide for the inclusion of clergy and lay persons, and member churches are to ensure that 40 percent of delegates are women, 40 percent men and 20 percent youth.
Delegates are the only attendees to have both voice and vote at the Assembly. They will be joined by representatives from associate member churches, who have voice but not vote, as well as observers, presenters, ex-officio participants, advisors, ecumenical guests, official guests, and media, staff, volunteers and stewards who will support them in their work.
Delegates are invited to better inform themselves about the Assembly, the host church and the host country by reading the information in this section. 
We pray all delegates have an enjoyable and meaningful experience at the Assembly and thank them for their contribution to this important body.