The Assembly offers attendees a program that Is both full and rich, and which is presented in three dimensions.
The first dimension is that of celebration of the Communion's common faith across context and cultures. This is borne out in worship, eucharist and prayers, beginning with the opening Holy Communion Service on September 13, and proceeding with worship in plenary each day thereafter, midday worship and evening prayer. Sunday worship takes place in local congregations.
The second dimension of the program is that of decision-making. In addition to holding business sessions, attendees will address constitutional matters, and hold elections, principally those of LWF President and Council. Significant reports are presented, these being the address of the President, report of the General Secretary, report of the Chair of the Finance Committee. In addition, the reports of the Assembly committee and of the nominations committee will be received. The reading and approval of public statements, resolutions, and the Assembly message is a core outcome of the Assembly.
The final dimension is mutual enrichment through joint reflection and discernment. This will include Bible studies, group discussions, thematic plenary sessions, a keynote address, village groups and regional meetings, the jarmark/marketplace, exposure and visits. Part of the program is a visit to the nearby Museum and Memorial of Auschwitz-Birkenau.
The Assembly is preceded by the youth and women's pre-Assemblies, and the executive committee and Council meetings. It is followed by the first meeting of the newly elected LWF Council.
LWF General Assembly
ARRIVAL on 12 September 2023 in Krakow
DEPARTURE begins 19 September 2023 AFTER 18:00. 
Executive Committee
12 September (morning) 2023
Krakow, Poland
ARRIVAL on 11 September 2023.
Pre-Council Meeting
12 September (afternoon) 2023
Krakow, Poland
ARRIVAL on 11 September 2023 or BEFORE 09:00 AM on 12 September 2023.
Post-Council Meeting
20 September (all day) 2023
Krakow, Poland
Please ensure departure on 20 September 2023 AFTER 18:00, or 21 September 2023.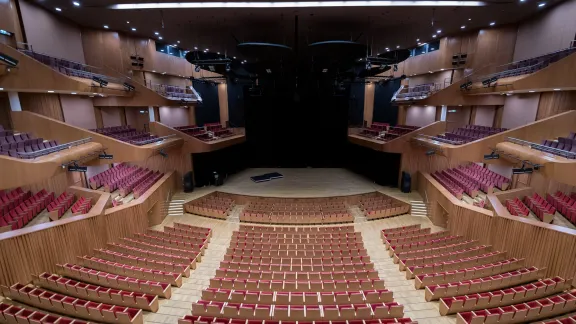 VENUE
The Assembly will take place at the ICE Krakow Congress Center, a modern, multi-functional facility located in the heart of Kraków, and described as the city's business and cultural showpiece. It includes a three-level foyer with a view of the Wawel Royal Castle.